THE BITTER OLEANDER SPRING ISSUE FOR 2021

Volume 27, Number 1

FEATURES
THE POETRY OF THE CENTRAL NEW YORK POET

PAUL B. ROTH
Paul B. Roth's poetry has been published in either its original text or translation by journals in such countries as Japan, Italy, Romania, India, Syria, Ecuador, France, Mexico, Algeria as well as extensively in the United States. He is the author of nine published books, After the Grape (University of Tampa Press—1969) Basements of Tears (Ann Arbor Review Press—1973), Half-Said (The Bitter Oleander Press—1976), Nothing Out There (Vida Publishing, Inc—1996), Fields Below Zero (Cypress Press—2002), Cadenzas by Needlelight (Cypress Press—2009), Words the Interrupted Speak (March Street Press—2011), Long Way Back to the End (Rain Mountain Press—2014), Owasco: A Passage of Lake Poems (Finishing Line Press—2018) and assisted in translating from the Chinese, Long River: Poems by Yang Jian, with Ye Chun and Gillian Parrish (Tinfish—2018).His work has been nominated for a Pushcart Prize once in 2018 and then again in 2020.
Roth is also the founder, and has been the editor of The Bitter Oleander and publisher of The Bitter Oleander Press since 1974 and then, after a brief seventeen year hiatus, again from 1995 to the present. The press publishes not only a biannual journal of contemporary international poetry and short fiction (Spring and Autumn), but books of poetry with a special affinity for those contemporary poets writing in languages other than English. These books in translation are the mainstay of The Bitter Oleander Press. Their mission is seeking a language uncommitted to the mediocre and the commonplace while being more integrated in the natural world. A language that helps define the same particulars in nature that exist in all of us and which have not been totally socialized out of us.
---
THE FOLLOWING IS EXCERPTED FROM PAUL B. ROTH'S INTERVIEW WITH JOHN TAYLOR:
John Taylor: In the opening prose poem of Fields Below Zero, published nearly twenty years ago, you already write: "Running away from the source of words learned all the way through grammar school, you find it better growing under rocks. . ." Is this how you resist the pressures?
Paul B. Roth: I'm fortunate to have an intense curiosity which continuously fuels my imagination and in turn, expands my perception with each new discovery. There's nothing like the pursuit of something unknown. We may never know what we're looking for but we keep searching for it until quite by surprise it finds and astonishes us. Sometimes it's right outside our front door or at the entrance to work. It could be anything: a spread open pinecone, a half-buried stone, a new evergreen growth, a yellow tomato flower, a curled leaf of Italian lettuce, anything we've never slowed down and stopped to examine. We may know its name, its general description, some incidental facts about it, but not that it contains something quite unique, unknown and akin to the future, just the way an acorn contains the oak tree. Once we start forming this deeper relationship with the natural world, we find it's not only comprised of its own numerous intricacies, but also those properties with which we may rapidly associate our own singular experiential range. This assists every object going forward to reveal its own singular qualities and sometimes those qualities rub off on us.
---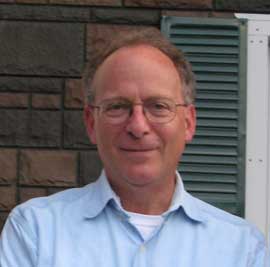 Photograph by Silvia Scheibli
TWO OF PAUL B. ROTH'S POEMS FROM CROOKED CIRCLE AS FEATURED IN OUR SPRING 2021 ISSUE:
(1)
Has it occurred to you that having never known your own name, having never been forced to
pronounce it from the very beginning,
you might have been something else, something other than afraid, something other than
owned by your own life, something other than alive in the face of your own death
and maybe as a way of being all that's unknown about yourself, you don't know your whispers
are the wind a summer maple filters through a green only the sun understands
you don't know you're able to utter the sound its leaves twirl to the ground, or that you can
jump into the performance each unbent stem, bouncing on impact, survives landing upright,
and along with the mist off the spray raindrops splash across the curvature of each wrinkled
leaf's skin, enliven their dying colors
---
(2)
On a whim when young you'd follow the crooked circle that a back-packing ant would
turn in search of its way home
Later and far from your own home, a magician taught you how to be the shadow attached
to the body that a black cat's so often caught slinking behind the moon
Your studies continued by climbing down into the hollow depth caught roadside by hi-beams
in a raccoon's bottomless eyes
and in time you became convinced that silence peaks where its heartbeats, sought out by
night's darkness, become an unheard motion
Your fingers mingle with the warm sands drooping grasses at high tide sift before
becoming a bubbly swarm of shore foam
Skidding along the blades of yucca bayonets you vanish with dew from sight at dawn
Now that you can be and are not just scratching the coarse gray neck hairs a spotted
donkey stretches towards the apple's aroma in your open hand
Now that you can be and are not just brushing the soft upward stroke of thick black over
a tufted titmouse's crown
Your blood should flow its greenest red through a rhubarb stalk's arteries, splash in its
waterfalls of warm chlorophyll, and make every attempt to quench your body's missing skin
an ongoing one