THE BITTER OLEANDER AUTUMN 2019 ISSUE

Volume 25, Number 2

FEATURES
FRANCA MANCINELLI
The Italian poet Franca Mancinelli (b. 1981) is already familiar to readers of The Bitter Oleander. Some of John Taylor's first translations of her work were published in these pages (see Volume 24, Nos. 1 & 2), followed by the first book-length translation of her poetry into any language: The Little Book of Passage (2018). Writing in the Times Literary Supplement about the translation, Mark Glanville remarked:
"Mancinelli explores the fault lines (faglie) across which religions attempt to build bridges that philosophers would remove, using the third way, of poetry. Deploying the uncertainties and ambiguities of language, she attempts to construct bridges of meaning that might at any time prove illusory. […]. For a true poet, as Mancinelli undoubtedly is, the quest goes beyond simple philosophical questioning. It is an existential struggle. [. . .] [A] remarkably mature poetic voice, sincere and humble in its search for meaning, worthy of the awards and accolades she has been accumulating."
The translation received several other enthusiastic reviews, including this analysis by Benjamin Myers in World Literature Today:
"The Little Book of Passage […] exemplifies the best possibilities of the prose-poem form. […] Mancinelli makes excellent use of this legacy, rooted in Baudelaire and the symbolists, to create a captivating account of consciousness moving back and forth across the borders of the self. […] Throughout the book, images of water and of motion suggest a decentering of selfhood, a fluid consciousness. […] Mancinelli writes movingly of loss and its effect on one's sense of self."
Log on to read the entirety of Benjamin Myers' review and others here:
Rough Ghosts Joseph Schreiber
www.roughghosts.com
Yellow Rabbits Greg Bem
www.yellowrabbits.weebly.com
For Peter Riley of The Fortnightly Review, "The Little Book of Passage […] seems a perfect manifestation of the full prose-poem concept. This is because it enacts a constant tension between stasis and movement. […] It consists of a sequence of 33 prose-poems in four parts, each delineating an enigmatic and disconnected moment or event in the life of the speaker in relation to ' ou' which is never entirely told. It is a kind of inner event, an event from which any reason for the pervasive sense of loss is omitted; 'you' is present but lurks in the past or future, a forgotten or possible meeting."
Mancinelli has been recognized as a major figure among the younger generation of Italian poets ever since her first book of poetry, Mala kruna (2007), won the L'Aquila First Book Award as well as the Giuseppe Giusti Prize. Her second collection, Pasta madre (2013), was awarded the Alpi Apuane, the Carducci, and the Ceppo-Giovani Prizes. Her work represents "poetic research by one of the most original authors on the Italian scene," the poet and critic Carmen Gallo has observed. "[She] combines an extraordinary stylistic lucidity with a visionary gaze that dialectically questions reality, without transfiguring or overturning it, and meditates on its constantly moving forms, on its hidden tensions [. . .]. Metamorphosis is one of the main figures of Mancinelli's poetic imagination."
---
THE FOLLOWING IS EXCERPTED FROM FRANCA MANCINELLI'S INTERVIEW WITH JOHN TAYLOR:
John Taylor: As you know, your imagery of fractures, fissures, and fault lines struck me from the very beginning of my discovery of your writing. The imagery immediately impressed me with its psychological and philosophical resonance.
Franca Mancinelli: Recently, when I gave a reading in Prato (Tuscany), Stefania, a teacher who has since become a friend of mine, after listening to "There is a small fault line in your chest," asked me a question about the pain: it had come to her from my voice and the images of the text, and she was trying to call me back to the sunlight. I answered her from within the feelings of abandonment and loss that had induced me to write the text and that were already turning into something else. She then told me about her trip to Iceland, to the Silfra Fissure, a strip of blue water dividing the North American continental plate from the Eurasian one. "Everything is so primordial there because everything always has a beginning," she said, enlightening me.
---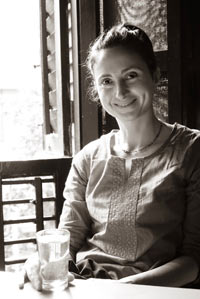 Photograph by Brooke Bierhaus
A SELECTION OF FRANCA MANCINELLI'S WORK AS FEATURED IN OUR AUTUMN 2019 ISSUE:
KEEPING WATCH

Stopping to write on the street, in a notebook that out of habit or obsession I always have with me, I was taken for a traffic policewoman by a passerby. "Are you writing out a ticket?" he asked, watching me mark something down while I was standing next to a row of parked cars. I should have thanked the man, but I merely smiled, absorbed as I was in jotting in my notebook. For a few moments I sensed my words brightening: if they were read with the same attention as those slips of paper left on windshields. . . if the lives of the inhabitants of this street were, for some time sequence, modified. . .
While walking, I have always given into this vice that induces me to write, taking notes from things, suddenly finding myself on the threshold of a secret that calls out to me, as when a dog with its snout on the ground sniffs a point where one of life's thick precipitates is emerging. It's necessary to breathe it in, to filter it, up to the last molecule. Nothing has meaning until you have carried out this duty of obedience to an invisible presence, capable of attenuating and nullifying even pain (someone tries to pull you away by force, ends up kicking you). This often happens to one inclined to sense, in everyday streets, the traces of another life. Thwarting for a few moments the flow of what is usual, included in the principles of utility and trade.
This is why, I think, I write on the street with a feeling of ill-concealed unease, letting my instinct satisfy itself as quickly as possible, and hoping to go unnoticed. The man who took me, today, for a traffic policewoman, intuited something: I'm doing my job. It's difficult to understand for whom or for what. I'm making a report, and delivering it.
---